We all love spoiling our favorite felines with toys, furniture, and treats. But despite our best efforts to buy the biggest cat tree and line our walls with painstakingly placed cat shelves, some finicky felines still choose to hang out in cardboard boxes and loaf under the bed. This is where a cat tent can come in handy.
"Some cats are bush-dwellers and some cats are tree-dwellers," says Samantha Bell, cat expert at Best Friends Animal Society. "It's thoughtful to offer both types of enrichment to cats and let them decide which they prefer."
The good news for pet parents of bush-dwelling kitties? There are plenty of enriching, yet aesthetically pleasing, tents on the market for cats. Read on for our best cat tent picks, including choices for indoor cats, adventure cats, and all the playful purrers in between.
Types of Cat Tents
It might come as a surprise how many cat tents there are out there to choose from, and that's not a bad thing. "For some cats, the novelty and variety of different sizes offered at different times can be very enriching," says Katherine Pankratz, DVM, DACVB, at Animal Behavior Clinic in Portland, Oregon.
While it's great to have choices, we understand that the selection can be a little overwhelming. Here's a guide to help you decide which tent fits your cat's needs the best.
Cat tent for play. If you're hoping to provide your cat with physical and mental enrichment, you'll want a cat tent that has dedicated scratching areas, is spacious enough for play, or has other toys attached to it.
Cat tent beds. Cats love cozy places to take a nap, and an indoor plush cat tent could be their new favorite spot. Every cat has different preferences when it comes to the preferred size and material of beds, so finding the right tent for cat naps could take trial and error.
Cat tents for outside. Providing your cat with safe access to the outdoors can be highly enriching. Whether you want to take your adventurous feline camping or add a new lounging tent to their catio, we've found some perfect outdoor picks.
Cat Tent Benefits
Cats are both predators and prey, so it makes sense that they crave safe spaces for hiding out and ambushing their own prey (i.e. their favorite toy). Or, they just might enjoy a cozy hideaway for a peaceful snooze. "Enclosed spaces can allow cats to feel protected," Dr. Pankratz explains. "Meeting your cat's environmental needs through their individual preferences can significantly decrease their stress and improve their welfare."
Cat tents offer a form of enrichment with scratching areas, cozy nooks, and protection. Besides being a mini haven, cat tents provide play areas and might save your couch from your kitty's nails. Plus, we found stylish options that may even receive compliments from human house guests.
If your cat has a preference for outdoor adventures, a tent enclosure can keep them safe from cars, dogs, and other dangers. Of course, says Dr. Pankratz, "direct supervision and awareness of the outdoor location of choice would be recommended to further reduce potential risks."
How We Selected Our Best Cat Tent Picks
In addition to expert suggestions, we considered the following when choosing our favorite cat tents:
Design/comfort. If a tent is not well designed and/or comfortable, your cat is not going to want to hang in it. With that in mind, we made sure each pick on our list would provide a desirable space for your kitty.
Safety. We highlighted any safety features that help keep our precious kitties secure, such as ground stakes or screened-in areas.
Reviews. To make sure fellow pet parents approved of our picks, we scoured the internet and hundreds of reviews, looking for top-rated, well-received products.
Price. Finally, we tried to choose tents that hit a range of price points in order to offer some great budget deals and some splurges.
Our Picks
All featured products are chosen at the discretion of the author. However, Vetstreet may make a small affiliate commission if you click through and make a purchase.
Best Indoor/Outdoor Cat Tent
Our pick: K&H Thermo Tent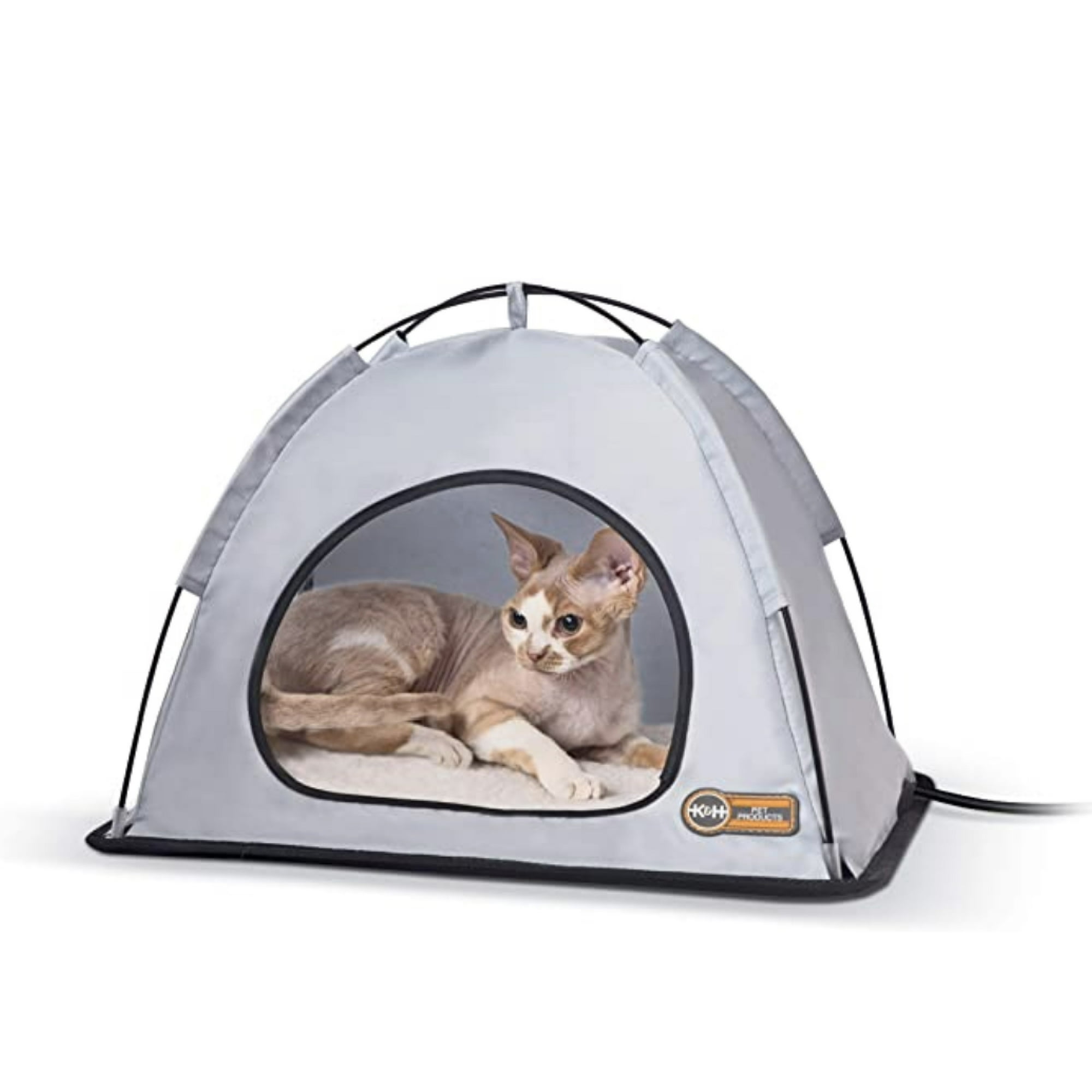 We absolutely love the versatility of this cat tent. Whether you have an indoor cat who loves to stay snuggly or an outdoor cat who needs a warm place to rest, the K&H Thermo Tent has you covered. Its orthopedic floor is super cozy with its soft fleece lining, and the smart design only heats up to the optimal cat temperature when it detects your pet's weight. It comes in two sizes, so you can choose the right fit for your cat. Just be sure to check with your veterinarian before introducing your cat to any heated bed or pad. 
Pros
Orthopedic, heated floor is removable for non-heated use
Indoor and outdoor safe
Great for cats or dogs
Tent and pad cover are machine washable
Comes in two sizes: 14" x 18" x 12.5" or 19" x 24" x 16"
MET safety certified
Cons
Should only be used in sheltered outdoor areas (porches, barns, sheds, etc.)
Needs to be within proximity of an outlet
A bit higher in price
Best Indoor Cat Tents
Perfect for a cat that likes to cozy up in a safe space, these indoor cat tents are great options for kitties of all sizes and ages.
Best Cat Tent for Lounging
Our Pick: Little Dove Pet Teepee House
If you think cat furniture can't bring happiness to you and your cat, think again…then add this adorable cat teepee to your cart. "This cat tent looks so cute in my living room and I get compliments on it by everyone who comes over," Bell says. The durable, cream-colored canvas is sure to withstand kitty shenanigans, plus it's machine washable for easy cleaning. Both beautifully designed and functional, this tent is a welcome addition to any cat-friendly abode.
Pros
Made from quality canvas and natural pine
Can be used for cats or small dogs
Aesthetically pleasing
Easy to assemble, store, and clean
Comes with or without decorative pom-poms
Optional matching cushion for cozy naps
Great price point
Measures 24" tall and 20" in diameter
Cons
Some customers mentioned that it's not as sturdy as they'd like
Best Cat Tent for Play
Our Pick: Furhaven Tiger Tent House
What's great about this play tent is that it's made from your cat's tried-and-true favorite (aka cardboard). Its simple design has all the stuff your cat wants and needs for an enriching afternoon of play without the expensive frills. With two sides of corrugated cardboard for scratching and an inside cubby, this tent is a great, reasonably priced option for active kittens and playful adult cats. It even includes a bag of catnip to make it that much more enticing!
Pros
Encourages healthy scratching and play
Good choice for kittens and adults
Made with 90% recycled material and non-toxic glue
Bag of catnip included
Good price point
Measures 18.5" x 18.7" x 12"
Cons
May not be as comfortable inside as some of the other options on our list
Best Modern Cat Tent
Our Pick: WLOWood Natural Cat House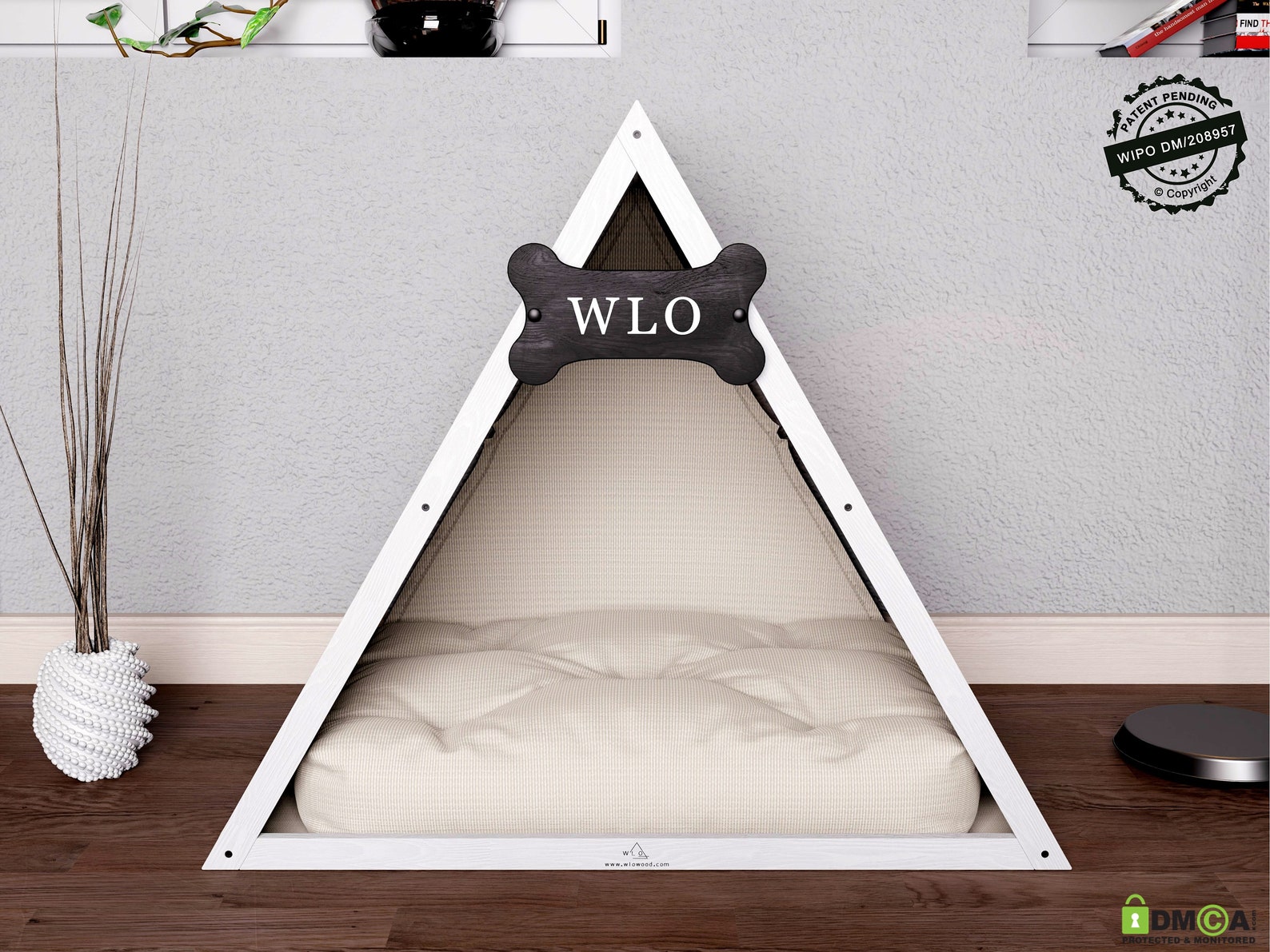 Yes, this tent is a splurge. But with over 3,000 five-star shop reviews, we couldn't scroll past the clean, minimal design of the WLOWood indoor cat tent. Handmade from solid pine, the tent comes in a selection of four sizes, so you can choose the one to best fit your kitty and your space. And with a personalized wooden name tag hung at the entrance, this is a tent your cat can truly call their own.
Pros
Adds a fun, functional, fashionable accent to any room in your home
Comes with a cozy pillow in a variety of colors
Personalized name tag included
Great for cats or dogs
Available in four sizes, from 25.4" to 47.5" in height
Handmade in the USA
Cons
Best Cat Tent for Multiple Cats
Our Pick: Happystack Cat Tree House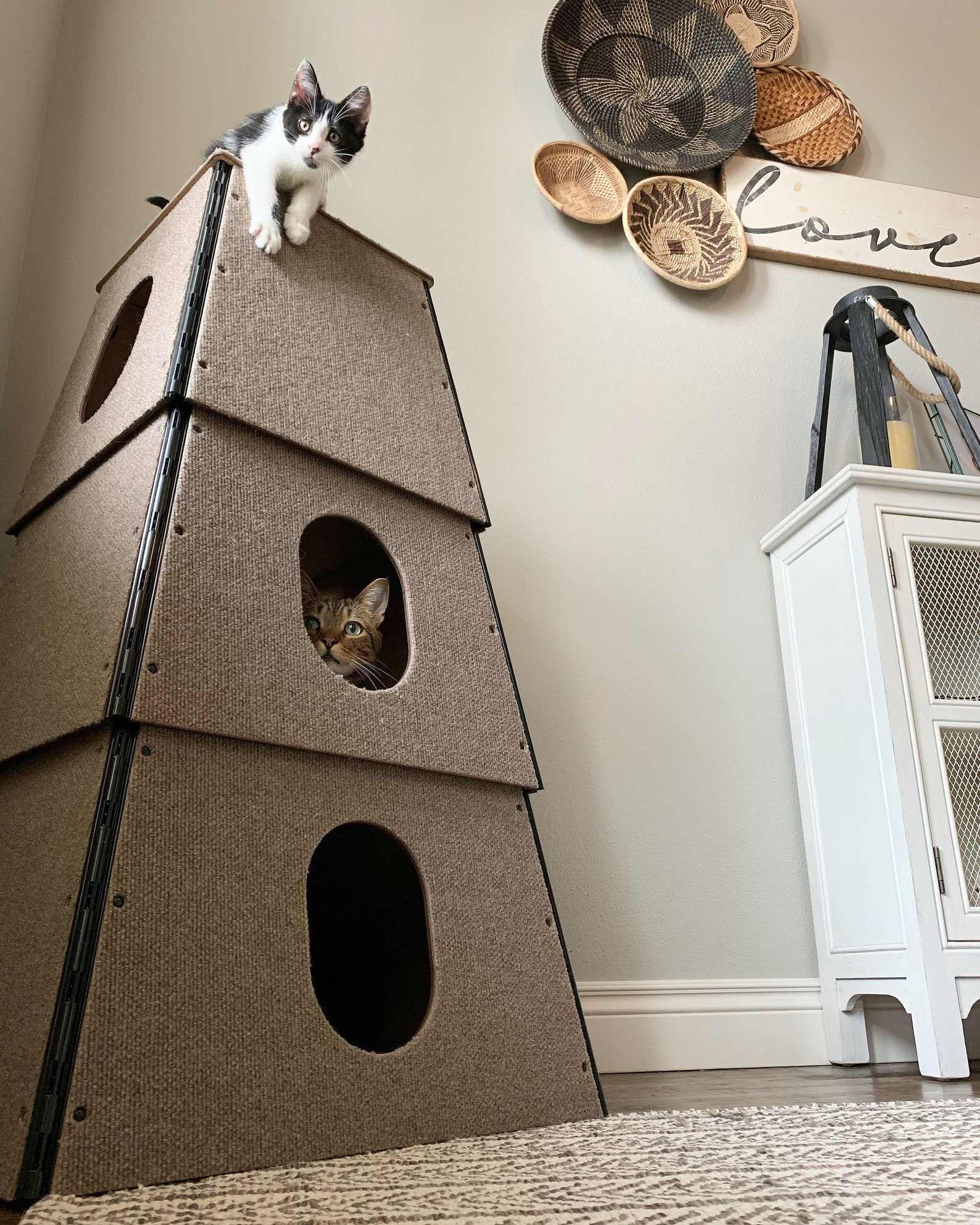 Finding a cat tent for multiple cats can be challenging. Ideal for bush-dwellers and tree-dwellers, this four-level cat tent can make the felines in any multi-cat household purr. The upper-most level allows tree-dwellers to perch 41 inches off the ground, while bush-dwellers can stay happily tucked away in the carpeted, wooden nooks. The tent is award-winning, most notably being recognized as a product that reduces fear, anxiety, and stress in cats. More good news: humans will love this tent, too. The ingenious design easily stacks together and unstacks for no-fuss storage.
Pros
Award-winning design easily stacks and unstacks
Great for multiple cats with different perching/lounging/hiding preferences
Handmade in the USA
Measures 41" x 23" x 23"
Cons
Not the best choice for smaller spaces
Best Outdoor Cat Tents
If your cat is feeling adventurous, they may enjoy the enrichment of one of these outdoor cat tents.
Best Elevated Cat Tent Bed
Our Pick: Floppy Dawg Just Chillin' Elevated Dog Bed
Sure, this elevated outdoor bed may have been originally designed for dogs, but there's no reason kitties can't get in on the action as well. Its shaded design encourages safe loafing out of the sun, and the bed is made of mesh, so your feline friend will enjoy a cool breeze any time of day. Plus, the brand's use of high-quality fabric and steel ensures this outdoor cat tent can withstand the elements. Or, place one (or two) in your enclosed catio like this cat mom.
Pros
Elevated mesh bed with canopy provides protection from the elements
Made from quality fabric and steel
Lightweight and easy to assemble
Great for cats or small dogs
Measures 30" x 24" x 28"
Cons
This tent is not enclosed, so it's not the best option for cats who don't stick around outside
Best Cat Tent Enclosure
Our Pick: Outback Jack Happy Habitat Outdoor Cat Enclosure
This is hands-down one of our favorite outdoor cat tents because it's so easy to pack and set up for adventures away from home. I've personally owned this cat mesh tent for about five years, and based on thousands of five-star reviews, I'm not the only fan of it. When used in your backyard, the pop-up cat tent offers a safe space for kitties to chirp at the birds or loaf about, without the commitment to a permanent catio. It keeps your cat fully secure via a zippered opening, and you can even purchase an additional tunnel that can be zipped closed at each end as well.
Pros
Fully enclosed design
Easy to assemble and take on adventures
Compatible cat tunnel (sold separately) can be used with or without the tent
Includes metal stakes for added sturdiness
Measures 74" x 63" x 36"
Cons
Doesn't have protection from the elements; should be used in fair weather and placed in the shade
Cats could learn how to pull the tent down
Best Cat Camping Tent
Our Pick: Coleman Dome Tent with Screen Room
If your adventure cat enjoys camping, then you're going to want a tent that accommodates the whole family. That's why we love the Coleman Dome Tent with Screen Room. In addition to its roomy, six-person interior (also available in an eight-person design), this cat-friendly camping tent offers a secure, bug-free porch, as well as added protection thanks to the included rainfly. Both well designed and constructed, it's the perfect home away from home for you and your cat.
Pros
Roomy interior
Secure screened-in porch
Rainfly included
Mesh storage pockets in the tent's walls provide easy storage of cat-camping essentials
Comes in two sizes: six- or eight-person occupancy.
Cons
Rainfly doesn't protect the porch  
Being a full-size family tent, it's automatically going to be more expensive than others on the list
Cat Tent Buying Guide
There are several factors you'll want to take into account when purchasing a cat tent. Follow these tips to ensure you get the perfect tent for your feline companion.
Think about your budget. Cat furniture can be expensive — and there's no guarantee your cat will choose to use it. Before spending lots of money on a fancy tent, consider purchasing a few budget-friendly ones. By doing this, you'll learn what size, material, and other aspects your cat prefers. Then, look for these qualities in high-end, stylish cat tents.
Read return policies. Cats have lots of opinions, and they might decide they still prefer the cardboard box over their brand-new cat tent. With that in mind, it's always a good idea to review return policies before you buy.
Consider cleaning options. Cats do shed, so you'll likely want a tent that can easily be thrown in the wash or wiped down now and again.  
Look at durability. When choosing a cat tent, consider its ability to hold up to daily wear-and-tear, especially from sharp cat claws and teeth. Look for soft-but-sturdy cushions and durable fabrics. Other times, spending less on a tent you know will get beat up, like the Furhaven Tiger Tent House, is A-okay. When it comes to outdoor cat tents, you definitely don't want to skimp on the durability of materials and safety features.