When considering whether or not to keep chickens, it's important to take into account the pets you already have around your home. The most obvious examples are cats and dogs, who sometimes let their chase instincts get the better of them. However, all your pets can get along just fine, as long as you lay down a few ground rules.
Keeping chickens with dogs
If you're a dog owner, the first thing to consider is the temperament of your pet. Does it often chase rabbits or deer when out on a walk? How does your dog react to birds in the garden? If your hound tends to lose control in these situations, this behaviour is likely to carry over into their relationship with chickens. Equally, if your dog is of a more relaxed temperament, they may show little if any interest in your coop. 
The likeliest scenario falls somewhere between the two extremes, in which case you'll see your dog taking an interest in the chickens, and spending plenty of time watching and attempting to play with them, but not moving in 'for the kill'. What's important here is that your dog needs to understand that the chickens are part of the pack, and not something to be hunted. It's also important that your dog understands that chickens are fragile, and that dog-style rough play is out of the question.
Teaching dogs to get along with chickens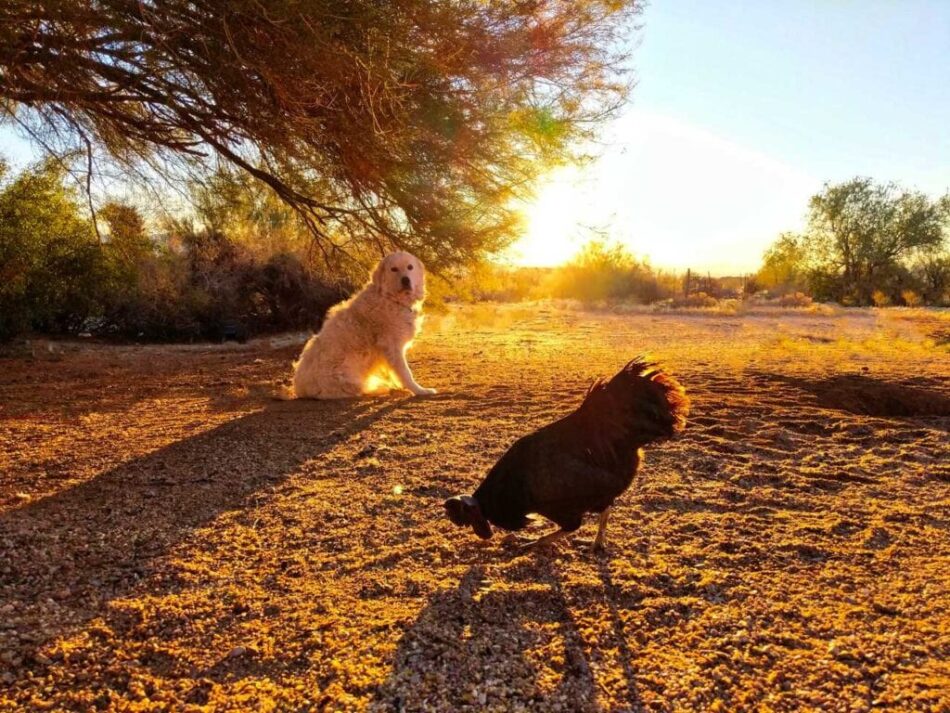 You can teach your dogs that the chickens are part of the family by letting them watch you spending time in the coop – initially keeping them separated with chicken wire or fencing. Many breeds of dog are naturally cautious around small animals and will be protective of your chickens once they consider them a part of the pack. The behaviour you want to see is your dog cautiously sniffing at the chicken, as opposed to adopting the head-down-bottom-up 'let's play' stance. 
One of the most important considerations when it comes to dogs and chickens is the temperament of the dog breed. Hunting dogs such as greyhounds and beagles will cave in to their chasing instincts if the hens begin to flap around, and they should never be allowed to mingle with the chickens. In contrast, farm dogs such as sheepdogs have protective and herding instincts, and they will be less likely to harm your chickens. 
There is no sure-fire way to guarantee your dogs and chickens will get on, but spending plenty of time introducing them goes a long way. As with all dog training, this can be an extended process, so be prepared to spend a few weeks introducing your chickens to your dogs with a barrier before you let them meet face to face. When you do introduce them, it's a good idea to keep the dog on a short leash at first, just in case. 
Keeping chickens with cats
Cats are a completely different story to dogs – they are harder to predict and less susceptible to training. However, they are unlikely to view a big fat hen as potential prey. Many farmers concur that their farm cats have no interest in hunting poultry, and are much more interested in the rats and mice that are inevitably attracted by birds. When keeping chickens, the occasional rat is standard, and having a cat around can greatly reduce their numbers. 
Although most chickens are too large for a cat to hunt, this largely depends on the breed of chicken and the size of your cat. If you find that your cat is beginning to stalk your chickens, a sturdy and secure coop and run that your cat can't access will deter trouble. This is good practice either way, as even if your cat is friendly with your chickens, your neighbour's cat might not be! The ideal answer here is the Eglu Chicken Coop, which is super-secure and comes with its own attached chicken run.
Keeping chickens with guinea pigs
You may already have a guinea pig hutch or run in your garden, and while this won't be a problem for your chickens, it is not recommended for chickens and guinea pigs to share living quarters. This is for several reasons, one being that rats will be further attracted to your pets' food, and they may attack your guinea pigs. Another reason is that when establishing a pecking order, your chickens will peck at each other and any other animal they live with. This can cause serious harm to guinea pigs, who do not have thick feathers to protect them. 
Keeping chickens with rabbits
Rabbits can be great companions for your chickens if you introduce them to each other when they are all very young. You will also need to ensure that you care for their different needs within the same run, in terms of food and equipment.
Rabbits, for example, like to have a clean space to sleep in, so you may need to muck out your coop and run more regularly than you would if the chickens were alone. You will also need to ensure that the chickens and rabbits all have a safe space within the coop where they can have privacy and space. You can achieve this by separating your run into three areas, one to house the roosting chickens, another for your rabbits, and a communal space.           
Having a large and secure garden run will make your chickens feel safer in general, and plenty of space will maximise the chance of the hens getting along with each other and their rabbit and guinea pig neighbours. 
Chickens and other pets
Chickens can also rub along happily with goats, and with female ducks (males will tends to bully them). Ironically, they do not mix with birds in an aviary. They will eat anything that falls to the aviary floor, but they will also happily peck the other birds whenever they can and may attract rats and mice, which will cause problems for the smaller birds.
Small mammal pets such as hamsters and gerbils should never be kept in the same enclosure as chickens. The rodents will be pecked and killed.
By following these few ground rules, you will be able to keep the various members of your mixed menagerie happy!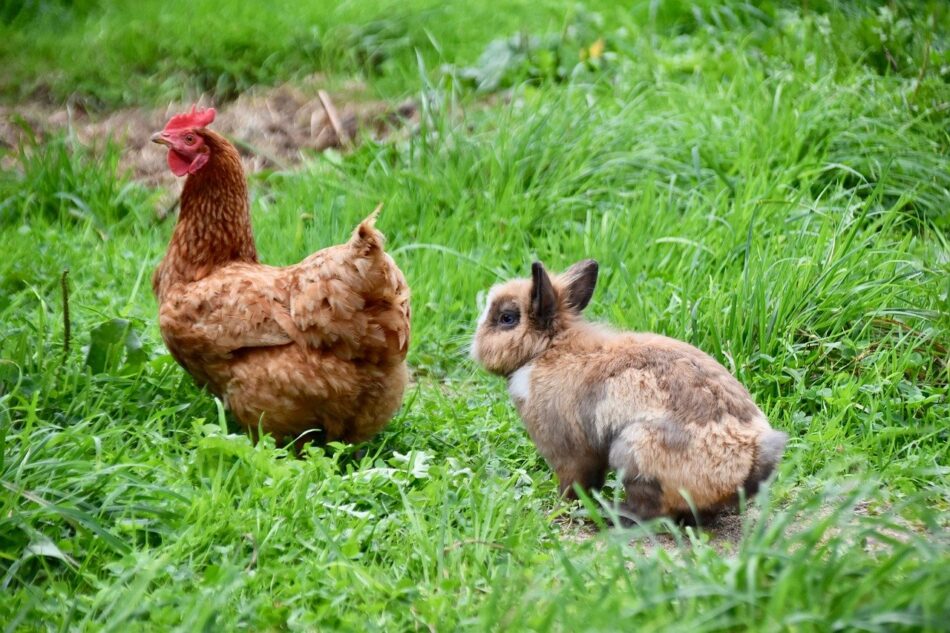 This entry was posted in Budgies
---